Smart Innovative Products, LLC utilized third party fulfillment comapny(s) to assist us in offering the last expensive and quickest method to deliver orderes to our customers. Our current shipping rates are located below, however, be aware these rates may change and/or vary at any time in the future. Smart Innovative Products, LLC will post revisions to this policy, within 7 business days, when a change occurs. If you have any questions, simply reach out to us at info@TheSmartApron.com or call us (480) 688-3771.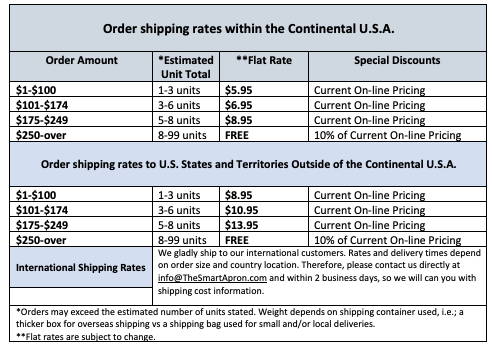 ORDER CANCELLATION POLICY
To cancel an order, call (480) 688-3771, within one hour of purchase to ensure the order will not be fulfilled.
PREFERRED SHIPPING CARRIERS
At this time Smart Innovative Products, LLC does not list contracted shipping carrier partners and/or their rates, as we have negotiated with many third-party shipping company(s) to use the least expensive and quickest method todeleiver your Smart Apron ordrs. Therefore, many major carriers, such as UPS, USPS, FedEx, DHL and smaller and/or local carriers may deliver your order. In addition, we have vetted each carrier to ensure they are highly reliable and professional.
If you experience an issue with your order that involves missing delivery attempts, package left but it cannot be located, sever damage to the box that caused damage to the product or similar, contact the carrier directly. If your issue is not resolved to your satisfaction, contact us and we will gladly assist to make it right.
Smart Innovative Products, LLC utilizes a retail polybag to packate each Smart Apron, as this protects the product during shipping and handling, and can be used int he retail environment, as well.
For individual and/or orders or 2 or 3 Smart Aprons, we may use a shipping bag, for larder orders, we will use a shipping box.
When placing an order for multiple Smart Aprons, the order will not be sent until the entire order can be fulfilled since shipping is paid for one time upon check out. If you would like an in-stock item to be sent prior to a pre-order item on the same order, we recommend placing the orders separately so they ship as soon as they are available. If your order has already been placed and you would like an item that is in stock to be shipped earlier, please contact us at info@thesmartapron.com for assistance. Customers are responsible for any additional shipping charges to split the order and to send each item separately.
Due to high demand from customers, we sometimes allow pre-orders of certain styles that we know are coming soon. Several of our customers have asked for the ability to pre-purchase so they know they will receive the style of their choice when they do arrive. Please note that your card is charged at the time of purchase which guarantees that your Smart Apron order is processed in the order in which it was received. Paying for expedited shipping will not make your pre-order arrive faster, however, it will ship within 24 hours once the product is received in our warehouse. Should you need an apron sooner than the estimated arrival date for your pre-order, you may choose from any items that we have in stock.
Each product description states whether it is in stock, or if it's a pre-order expected at a later date. Please note that unless otherwise stated on the website, estimated dates of delivery are just estimates. They are not guaranteed delivery times and should not be relied upon as such. We can only provide ballpark estimates as to when products will arrive as there are many factors in which Smart Apron cannot control shipping delays due to weather, customs holds, etc. If there is ever a major delay with your order, we will notify you via email.
The website itself should not be used as a tool to determine when your specific order will arrive. Shipping estimated dates listed are for new orders placed and not for orders that have already been placed. When in stock, items ship within 1-3 business days.
INTERNATIONAL SHIPPING INFORMATION
We gladly ship to our internatonal customers. Shipping rates and delivery times will vary, depending on which shipping carrier will be most affordable and appropriate for your order. Therefore, please contact us directly so that we can provide you with delivery information within 2 busniess days.
We cannot ship to a P.O. box, so make sure you provide Smart Innovative Products, LLC with a current residential and/or business address so there are no delays in delivery.
We utilize the most expedited method to pack and ship your order once it is received, as we want your order to ship as quickly as possible, but also appropriately packed. To check the status of an order, utilize the tracking number located on the shipping confirmation email you received or email us at info@TheSmartApron.com and we will check with the carrier and send you a delivery status.
Smart Innovative Products, LLC accepts payment through our secure and easy to use e-commerce portal on our website www.TheSmartApron.com.
We accept:
PayPal Express Checkout
Visa
MasterCard
American Express
Discover
Bankcard
Switch
Solo
Smart Innovative Products, LLC will not share any personal information, other than what is required to complete the shipment of your order. Email us at info@TheSmartApron.com if you have any questions about the privacy of your privacy information, pertaining to the delivery of your order.