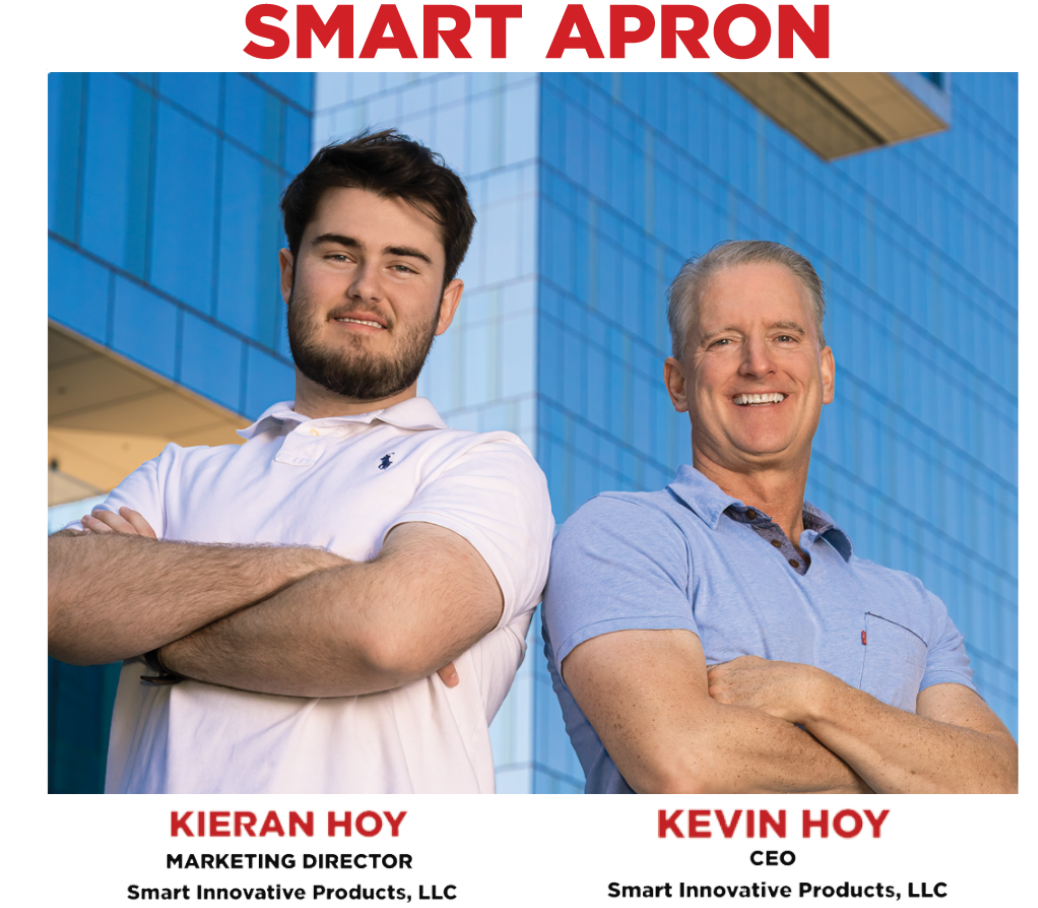 How Smart Apron was Invented
The original Smart Apron was invented by Kevin Hoy, as he wanted to build a multi-functional and durable work apron. This occurred only a few weeks after Kevin completed the US Army Military Police Academy, as he took a food server position at Red Robin, while he interviewed with several local police departments. While Kevin waited tables, he found the traditional apron was more of a hindrance than helpful, and wanted to incorporate military uniform design features, as they offered plenty of pockets and other features to hold various types of equipment.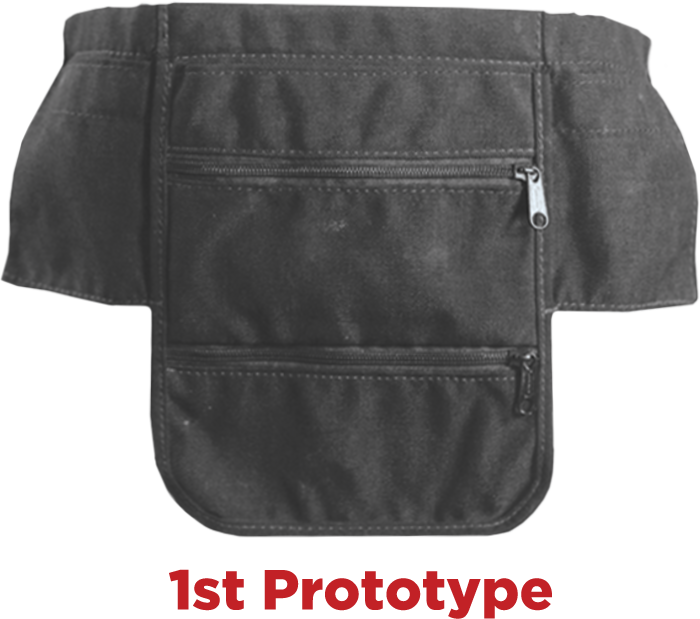 Therefore, Kevin took an old fanny pack, cut out the bottom, hand sewed on two zippered pockets and with permission from the restaurant owner, he wore the prototype during a shift. Kevin found it actually saved him lots of time, and kept his main work items at this fingertips and always ready for use.
Kevin then worked with a local company to produce 30 prototypes of his new apron prototype, originally called the 'waiter holster'. When the prototypes were completed, Kevin enlisted his fellow food servers to wear the prototypes during a shift or two, and then provide him with feedback. The initial feedback was so promising it cemented Kevin's desire to continue to modify the design into something special.
During the next few years, Kevin and original business partner, Hans Schramm, worked diligently in improving the waist design, eventually added the Bib style Smart Apron. The product line become moderately successful, as Smart Aprons began to sell nationwide, with Smart Apron becoming a vendor with a large national food service distributor. Unfortunately, due to poor manufacturing quality, Smart Apron paused operations until a manufacturer could be located that could produce Smart Aprons to their exacting design specifications and high quality standards.
High School Marketing Class
Life went on and the Smart Apron laid dormant until 2016, when Kevin's son, Kieran, presented the Smart Apron product in his advanced marketing class for an assignment, and later that week informed his dad the Smart Apron presentation was a huge success! Kieran added his fellow classmates wanted to buy a Smart Apron and his marketing teacher asked why the Smart Aprons weren't on Amazon? So, Kevin agreed to revitalize Smart Apron, only if his son would partner with him, which Kieran agreed to do.
Rebrand and Revitalize
Over the next 3 years, the father and son duo rebranded the line, secured top level manufacturing, expanded their total number of designs to 11, created a new website, Trademarked the Smart Apron name, filed provisional patents, launched their products on Amazon, completed a brand license partnership with Turtle Wax and completed hundreds of other tasks to ensure success.
During 2020, amidst the COVID pandemic, Smart Apron continued to home in on their innovative work apron designs. They also took advantage of the economic slowdown, by reaching out to various companies to introduce them to the benefits of the Smart Apron and begin to establish distribution channels, in anticipation of sales growth when the COVID pandemic subsided. In doing this, they were very fortunate to begin a collaboration with US Foods Direct in order to bring the Smart Apron line to their customers. In the fall of 2020, Smart Apron and US Foods Direct finalized the partnership to ensure US Foods customers could easily purchase their time saving, high value and beneficial Smart Aprons. The official Smart Apron launch date with US Foods Direct is tentatively set for the summer of 2021.
Current Smart Apron Styles Available for US Foods Direct Customers
In 2021, US Foods Direct will be offering customers, 3 different Smart Apron styles to choose from; Waist, Full Bistro and Bib, and depending on the style, up to 4 colors; Black, Gray, Tan and Green.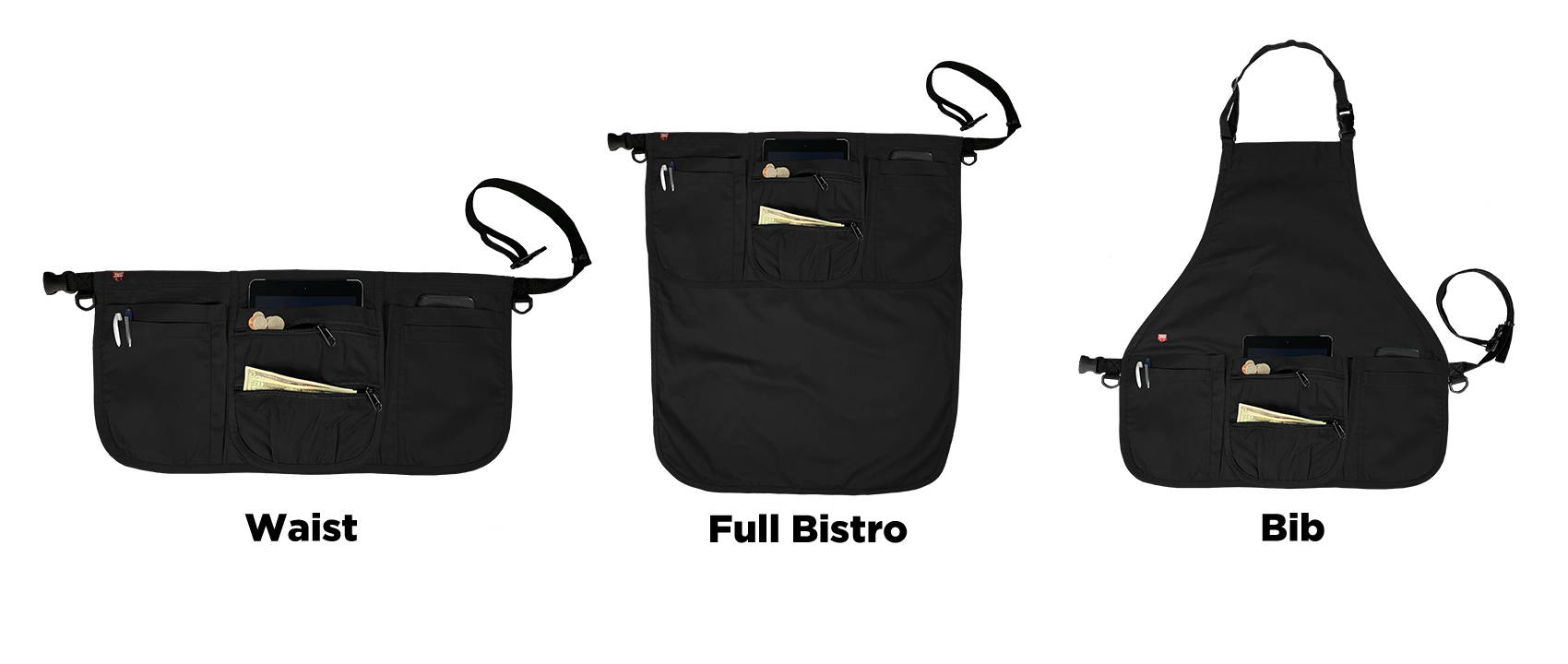 Thank you for reading about our history and welcome to the Smart Apron!
---